Palmenhaus
– currently a bit different than usual –
Our Nymphenburg Würstlbarone with mulled wine hut on our terrace are open:
Wednesday to Friday depending on the weather 11.00 a.m. – 5.30 p.m. | Saturday, Sunday and public holidays 11:00 a.m. – 6:00 p.m
And we also like to organize outdoor parties. Just ask us!
Our café is open Thursday and Friday from 11:00 a.m. to 6:00 p.m., Saturday, Sunday and public holidays from 10:00 a.m. to 6:00 p.m. And of course we also hold events daily, during the day and in the evening (each with a minimum turnover). Feel free to ask about your favorite festival.
♥
The current Corona rules are as follows:
No G-proof regarding Corona is required for taking food and drinks to go
Access to the outside and inside area up to check-in FFP2 mask when queuing & on all walkways inside and outside – please continue to ensure sufficient distance!
Access for indoor and outdoor areas with 3G – the confirmations are obtained directly from us with ID (picture) | Vaccinated – Check by https://www.corona-assist.de/checkercovi/
Definition of vaccinated: Persons are considered fully vaccinated if their complete vaccination is 15 days or more ago (exception vaccination at Johnson & Johnson = 1 vaccination + 15 days) – Proof: vaccination card (analogue or digital)
Definition recovered: Recovered are people whose illness ended between 28 days and 6 months; before or after this period, these persons are no longer considered to have recovered – proof of confirmation
People whose Covid disease has been over for more than 6 months and who have received the first vaccination are also considered to have recovered.
People who present a corona test no older than 24 hours are considered tested.
Children over the age of 12 please present their current student ID card and a quick test that is not older than 24 hours.
♥
Contactless cash and card payments (EC | Visa | Master | Applepay | Googlepay) possible.
♥
Here you can find our Corona safety video on our YOU TUBE CHANNEL (click on the image):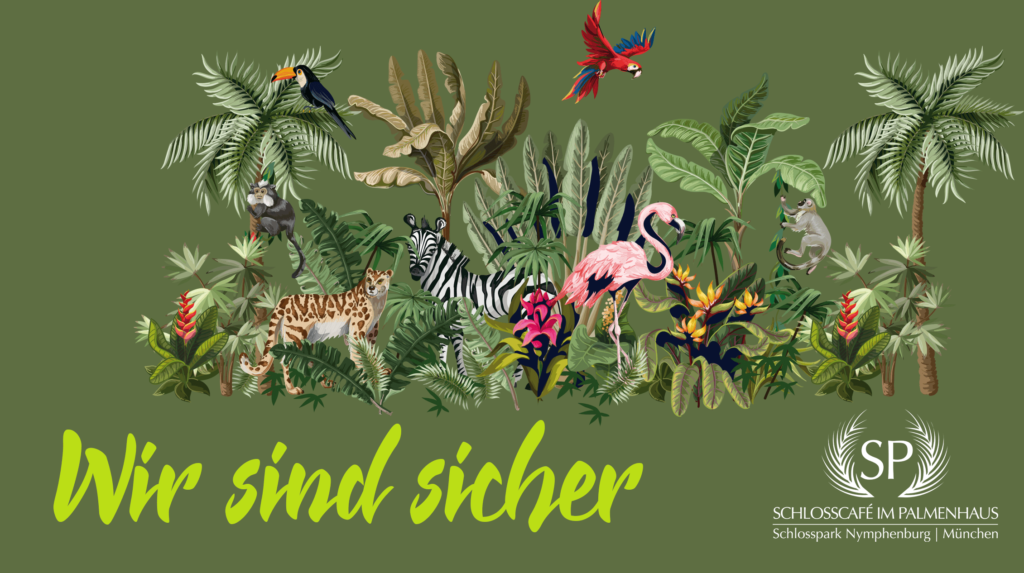 ♥
Please support our appeal #wirsindlebensfreude on your social media channels and stay loyal to us!
#schlosscafeimpalmenhaus
Our office is manned all the time and we look forward to your inquiries for your future planned closed event in accordance with the current Corona regulations
workshops | Conference | wedding | festivity | photo shoot | funeral service | Lunch | Dinner or whatever you want to celebrate!
We look forward to welcoming you to viewing and consultation appointments!
Please don't hesitate to ask us. (request form)
•
Would you like advice on the current Corona regulations and hygiene measures? You're welcome:
Please don't hesitate to ask us. (request form)
•
For your protection and ours, please observe our careful hygiene measures so that we can go through this special time together healthy and safe. We ask for your understanding that the use of the toilets is reserved exclusively for our guests. The public toilets at the main castle are available for park visitors. Please note our information. Thanks alot.
•
 P.S.: Wir freuen uns auf Ihre Reservierungsanfragen unter info(at)palmenhaus.de