The lovely palm house
♥
For the safety of all of us, our in-house current Corona guidelines are as follows:
Please keep your distance!
Access to our outdoor areas has no restrictions.
Please wear a mask indoors up to the table on all routes – this also applies to our employees. Many Thanks.
Why?
Because we – the palm house angels – in the democratic voting process on this topic – want to avoid infections and thus quarantine stays in the interest of all of us.
♥
Contactless cash and card payments (EC | Visa | Master | Applepay | Googlepay) possible.
♥
Here you can find our Corona safety video on our YOUTUBE CHANNEL
(Please click on the picture)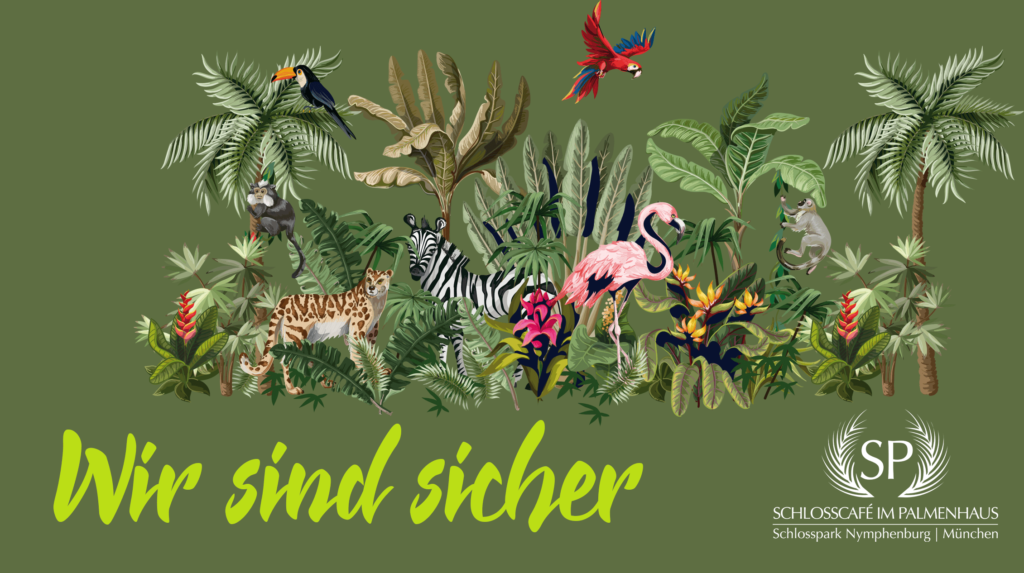 ♥
Please support our appeal #wirsindlebensfreude on your social media channels and stay loyal to us!
#schlosscafeimpalmenhaus
Our office is manned all the time and we look forward to your inquiries for your future planned closed event in accordance with the current Corona regulations
workshops | Conference | wedding | festivity | photo shoot | funeral service | Lunch | Dinner or whatever you want to celebrate!
We look forward to welcoming you to viewing and consultation appointments!
Please don't hesitate to ask us. (request form)
•
Would you like advice on the current Corona regulations and hygiene measures? You're welcome:
Please don't hesitate to ask us. (request form)
•
For your protection and ours, please observe our careful hygiene measures so that we can go through this special time together healthy and safe. We ask for your understanding that the use of the toilets is reserved exclusively for our guests. The public toilets at the main castle are available for park visitors. Please note our information. Thanks alot.
•
 P.S.: Wir freuen uns auf Ihre Reservierungsanfragen unter info(at)palmenhaus.de