Palmenhaus – a little different than before…
Our mulled wine hut with grilled sausages opens Saturday & Sunday from 11 a.m. to 5.30 p.m. To Go!
On-site consumption is unfortunately not possible until further notice.
By order of the authorities, the dining café will initially be closed until December 20, 2020.
We thank you for your understanding and hope that the COVID situation will calm down as soon as possible.
♥
Here you can find our current videos on our YOU TUBE CHANNEL: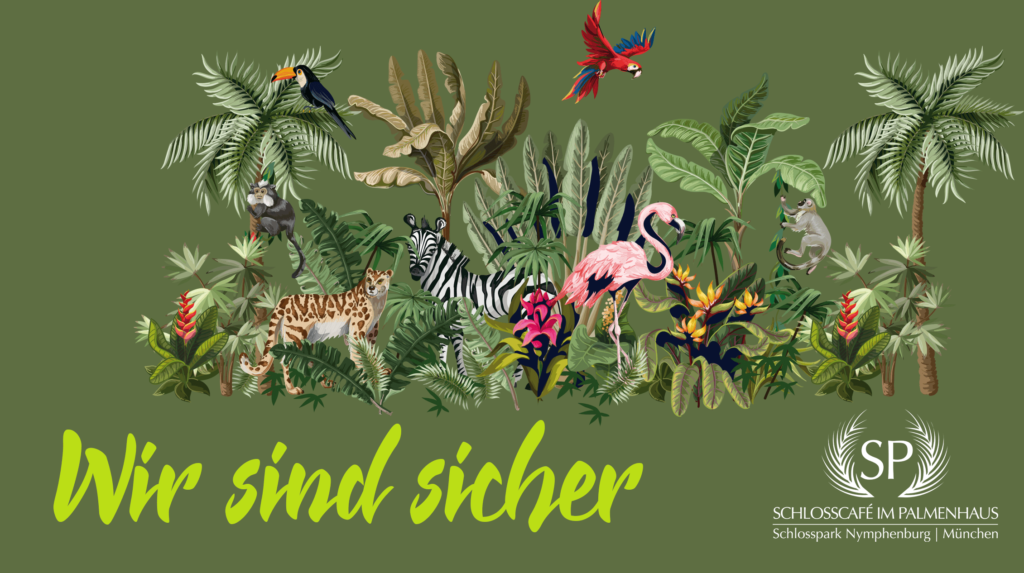 You can find out whether we are open daily on Instagram and Facebook
#schlosscafeimpalmenhaus
In addition, we also open our Palmenhaus on weekdays for your private event
Workshop | Conference | Wedding | Festivity | Photoshoot | Funeral service
Please ask us about this.
On Saturday and Sunday, the dining café is also open with service in all weathers:
10 a.m. – 6 p.m. – breakfast and 10 a.m. – 2 p.m. – warm meals until 4 p.m.
•
Evening events are also possible – currently up to 25 people indoors and up to 50 people outdoors.
Of course, the our BBQ Connection (outside BBQ & more) will also be back for you soon!
Probably from mid-October.
We look forward to welcoming you to stay with us.
Please ask us ♥ Inquiry form ♥
•
It is still possible to take drinks, ice cream and food to-go with you during the walk in the park.
•
Our hygiene measures to protect our guests and our employees:
After registering (correct name, correct telephone number or email address taking into account the GDPR) and placing it at your table, you can pick up your delicacies (food, drinks, ice cream, cakes) yourself at our Milchhäusl (Kiosk) or are placed. We kindly ask you to comply with the current contact restrictions – we have different table sizes, also for families – and distance rules on our company premises, to pay attention to our instructions, to wear your mouth and nose protection until you are seated and of course on all walkways in the Palmenhaus.
We ask for your understanding that the use of the toilet is only reserved for our guests until further notice. The public toilets at the main castle are available for park visitors. Please note our information. Many many thanks!
•
P.S .: We look forward to your reservations at info(at)palmenhaus.de
♥ or your request via our form ♥